Add Style to Your Window with Waverly Valances
Posted Jul 21, 2013
|
Filed under
Curtain Product Reviews
|
Comments (0)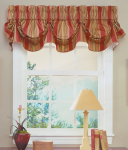 America's Online Curtain Store, Swags Galore has a large selection of discount Waverly Valances and Curtain panels. Affordably priced these quality Valances and Panels are will make a statement in your home and make you the envy of your neighborhood.
The Imperial Dress Porcelain Valance is available in 2 styles, a Scalloped Valance that measures 80" wide which is considered an extra wide Valance since most Valances are about 50" wide. Considering this valance sells for $30.98 and is almost twice as wide as the standard Valance this Quality Waverly Valance is extremely affordable.
The Imperial Dress Porcelain "Rebecca" Valance is a beautiful tone on tone Pleated Valance that measures 50" wide and can be installed on windows as wide as 42" with a 3" return on the Curtain Rod. If your window is wider you can use more Valances.
The Rose Momento Double Scalloped Layered Valance is a large scale gold floral jacquard on a merlot background. Like the Imperial Dress Scalloped Valance this Valance is 80" wide and can be used on windows as wide as 55" and at $30.98. This Valance has a 3" pocket and a 2 ½" header panel, the fabric is 50% polyester and 50% cotton.
The Sweetwater Stripe Tucked Valance is a pretty design with vertical stripes. Available in 2 colors and measuring 79" wide by 16" long these valances are sure to make your windows look full due to the gathering of the Tucked Scalloped folds in the fabric. This Valance is made up of 50% cotton, 50% polyester and has a 3" pocket with a 3" header.
Don't forget to go to Today's Promotions on our home page for Coupons and Free Shipping Codes to help make your shopping experience more affordable