Understanding The Different Curtain Terms
Posted 2/4/2022
|
Filed under
Tips By Manny
|
Comments (0)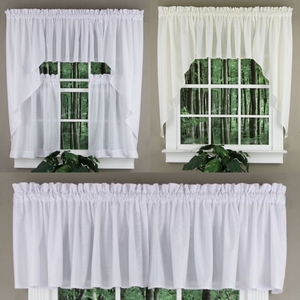 Remodeling or just buy a new home? Cost can add up quickly however Swags Galore offers thousands of quality, ready-made window treatments. But understand the terms of window treatments can be a little over whelming. Below is a brief guide to different styles of curtains offered only at Swags Galore.
Types of Curtains
Curtain Panels
Curtains or sometimes called panels are rectangular pieces of fabric available in a wide range of lengths. Some can be as short at 45" while others can be other 120". Choosing the perfect length of curtain is based on your style and look you are trying to achieve. Curtain panels are available in various fabrics, colors, and patterns. They work well in any room and can be opened or closed to give you privacy. Full-length curtain panels provide complete seclusion, protect you from the elements, and add a touch of beauty to your home. They can be hung with a standard curtain rod, grommet rod or pinch pleat depending on their design.
Valances
These are short pieces of fabric used to cover the tops of windows. They can be accented with curtain panels, swags or tiers depending on the style you are going for. Valances come in a range of styles, scalloped, tailored, layered, lace, sheer, etc. Valances add a bold look to your window without a high-end price.
Swags
This style of fabric is sophisticated, as the name implies. They're the two pieces of fabric on the left and right side of window that are cut shortest to longest inside to out. Swag pairs are accompanied by a valance and tiers to create a bold look. Swags hung with valances and tiers give a more formal appearance to your room.
Tier Curtains
Tiers just cover the bottom half of the window; they can easily blend in with the rest of your home design. They come in a variety of colors and patterns. They let you have as much light in your window as possible, giving it a lovely shine. These curtains are inexpensive and simple to install. Some homeowners will only have tiers at the bottom of their window, but they can also be installed across the top of the window or accompanied by a valance and swag giving a full bold look.
Tie Up Shades
Tie Up Shades are great for customers who want to be able to control the length of their curtain on their window. Long ties attached at the rod pocket of the tie up shade hang down and can be tied to the desired length. Tie Up Shade curtains are effective heat and cold insulators. During the sunny days they can be adjusted open and at night they can be adjusted closed giving the customer total control.
Choosing the right product can be over whelming but our experts at Swags Galore are always here to help you. We have informational videos, hanging instructions and measuring tips to help you complete your project. Our staff can be reached M-F 8:00am to 4:30pm est at 1-800-439-0323 if you need help ordering or finding the perfect product.
Swags Galore is widely recognized for offering an wide range of readymade curtains and draperies at the marketís best prices. The extensive range of curtains that the company offers include Waverly curtains, black out curtains, casual curtains, white curtains, rod pocket curtains, sheer curtains, embroidered curtains and many others. In order to provide best-in-class curtains, the company has associated with the leading brands of the industry such as curtain chic, StyleMaster, Renaissance Home Fashions, Lorraine Home Fashions and many others.
We are constantly adding new items to our inventory daily and because we stock everything in our own warehouse we can pass the savings along to the customer instead of companies who drop ship their items from the manufacture. Swags Galore offers many coupon codes to additionally help our customers save money. We have a 5% off for all orders, 15% off for orders over $100.00 and Free Shipping for orders over $75.00.