New Colors Are Plentiful At Swags Galore!
Posted Feb 2, 2016
|
Filed under
Tips By Manny
|
Comments (0)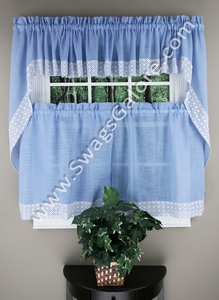 Swags galore are pleased to announce we have recently acquired some new colors in some already successful kitchen curtain lines! These lines include Salem, Rosemary, and Provence and the colors are blue for Salem, rose for Rosemary and chocolate and black for Provence!
If blue, rose, chocolate, and black aren't your colors be sure to check out the many other colors for these lines already available on the swags galore website. Salem is available in burgundy, blue, sage, chocolate, French vanilla, and black, and Rosemary is available in rose and linen.
These are some of our most prettiest kitchen curtains and for good reason. The many colors and unique styles allow for endless possibilities when decorating your kitchen or any other area of the house with a smaller size window. Be sure to look through the Swags Galore website categories for different types of fabrics and styles such as our lace curtains and our large selection of Valances!
We are America's Online Curtain Superstore and we value our customers and will do almost anything to keep them satisfied and happy. So please stop buy and check us out today. And to show our appreciation for our customers please feel free to use ONE of our great coupons, FREESHIP75 to get free shipping on orders over $75, SAVE5 to save 5% on any order, or SAVE15 to save 15% on orders over $100 Restrictions may apply.