Add Flair to your Windows with Valances
Posted May 30, 2013
|
Filed under
Tips By Eugene
|
Comments (0)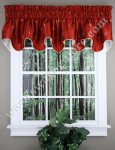 Valances are plentiful at Swags Galore. We have the largest selection of Window Toppers on the web and are adding more Valances every day. From Country to Contemporary we pride ourselves in our collection of Window Treatments.
Layered Valances add an increased value to your purchase since they have 2 layers of fabric (front and back) for the same price of most other Valances. The Layers are always color coordinated which helps in incorporating colors into the rooms there installed in.
Scalloped Valances are good values if you want a full gathered look for your windows. Scalloped Valances are made with more fabric then Straight or Tailored Valances which tend to give them more body, helping to give the rooms there installed in a warm cozy vibe.
Swag and Jabot sets are good options for framing your windows since the Jabot hangs down on the left and right side of the window and the Swag goes across the top creating a picture frame type effect. You can install as many Swags as needed to fill the area between the Jabots , depending on the width of your window.