Drapery Curtains
Posted Oct 25, 2013
|
Filed under
Tips By Eugene
|
Comments (0)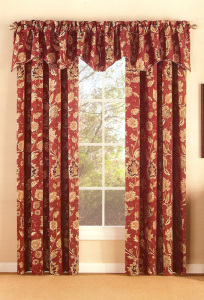 Nothing beats fabric panels when it comes to adding instant warmth and style to a room, and today's drapery panels are made to fit to the way we live. No longer are draperies just considered for their function; panels making high fashion statements in both formal; and informal styles, and with new looks created in luxurious fabrics with texture, decorative trim, elegant curtain rods and accessories.
Creative elements are key, curtain rods, tie backs, tassel and trim are the difference between bland and extra ordinary a visit to www.swagsgalore.com will reveal a virtual explosion in the number of drapery panels and creative elements.
Whatever Curtain style you're searching for your sure to find it at America's Online Curtain Superstore, the leader in offering affordable pre-packaged window treatments. With more than 1000 different drapery panel in their 13,000 S.F. warehouse and 1500 different Valances Swags Galore is America's favorite place to buy Window Treatments.
Use coupon code "freeship75" for free shipping on orders over $75.00 or "save15" to receive 15% discount on orders over $100.00.